Advanced co-design for tailored iron castings
We find the most suitable material for each application
The iron castings we produce in our foundry are the fruit of tailored designs, specially created with the client to best satisfy their needs. Thanks to the skills of the technical office and R&D laboratory, we can offer an advanced co-design service, which enables us to intervene in the early stages of the product life cycle.
We examine FEM simulations to optimise casting performance, contributing to the choice of the most suitable material for the required loads. If desired, we suggest alternatives and draw up working designs of castings, so that they fully meet the requirements indicated by the client company's engineer.
Our advanced co-design service for nodular cast iron – for applications in tool machines, presses, power plants and the iron and steel industry – is particularly valuable within the existing regulatory context which, in the absence of specific data, leaves the definition of the properties and monitoring methods to the foundry-client agreement.
In our technical office, equipped with modern technological solutions in terms of CAD/CAM software, casting and solidification simulations, plus apparatus for checking dimensions, we define the geometries of the model making equipment necessary to produce the required components
We rely on the following instrumentation: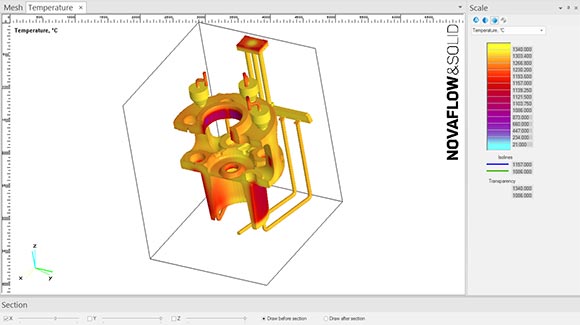 NovaFlow & solid (Novacast) simulation software:
When designing casting systems and casting production methods, we use NovaFlow & Solid simulation software by Novacast, to assess the risk of shrinkage in relation to the piece type and the needs of the client-engineer;
GOM ATOS Compact Scan 5M and GOM TRITOP optical measuring system:
These instruments enable us to achieve high resolution optical digitalisation which provides quick and accurate three-dimensional measurement data for the optimisation of production processes, such as deformation control and geometric data acquisition of any casting. The data management software is able to align the scan (STL data format) with the mathematical solid (CAD) pinpointing the deviations and issuing accurate control reports;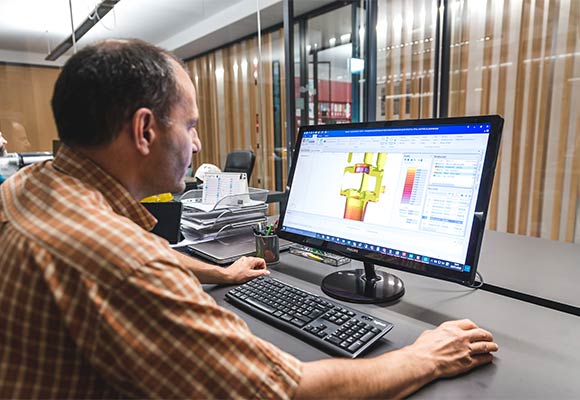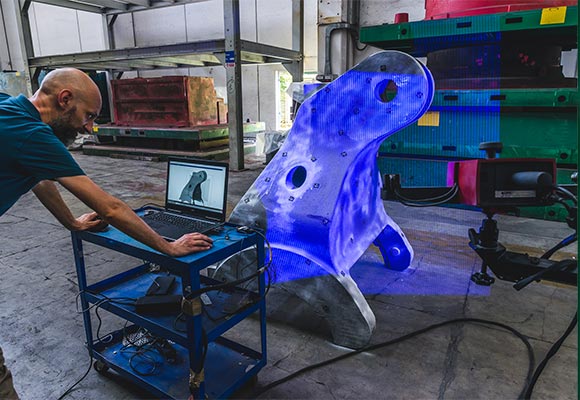 In the Research and Development laboratory, we find new technological solutions and we study the use of innovative materials meeting performance needs and respecting the surrounding environment. We work in collaboration with national and European universities; we invest resources in modern instrumentation, personnel and their professional growth.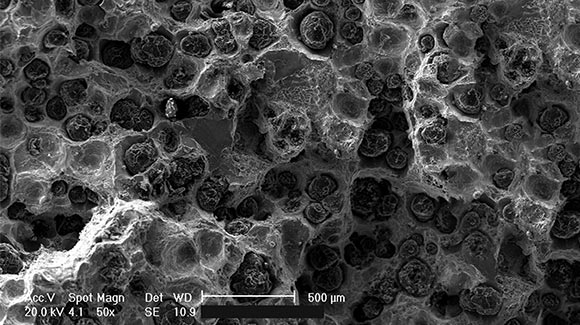 The research and innovation staff is specialised in the following activities:
Rotating bending fatigue tests;
Axial fatigue tests;
Heat treatment tests (annealing, normalising, hardening, austempering), using a laboratory furnace with temperature control and the possibility of controlled atmosphere;
Solidification tests with controlled cooling cycle, thanks to a pilot unit made up of a bell furnace.
Ongoing relations with universities enable us to conduct tests and analyses, including:
Metallographic analysis and fracture surface analysis using electronic microscope and micro-analysis;
Mechanical fracture tests (KIc, Paris curve, ΔKth);
Multiaxial fatigue tests.